The Trash Project
The Trash Project
FLC invites you to join us in contributing to The Trash Project, which draws on transgressive linguistic landscape to study and take action on health and environmental issues in an area.
This page outlines how you can contribute to the Trash Project. It is divided into three parts. The first part states the objective of the project. The second part is a short literature review that can guide you in understanding the relationship between socio-economic status, health, and food consumption. It can also be used to interpret your findings. The third part is a set of guidelines on collecting data (trash).
Part I: What do we want? (Objectives)
This project investigates how transgressive linguistic landscape – an example of which is trash – can be used as an indicator of the health and environmental issues of communities. Specifically, it aims to address and take actions on the issues of health and environment.
Part II: What do experts say? (Literature Review)
A study of language on trash can help us in understanding some of the consumptions habits in a community. Once coded and categorised, the data can reveal what sorts of things people consume in an area (and discard off improperly). A categorisation and analysis of language on trash can be used to understand some of the health and environmental issues faced by a community.
Below, we will briefly outline some key findings about the relationship between socio-economic status and health of people as well as the relationship between health and food consumption. You can use this (and other relevant literature) to better understand and interpret the data (trash) that you collect.
Socio-economic status and health
Based on numerous studies, there appears to be a positive correlation between socio-economic status and health (Marmot, 2004; Hallerod & Gustaffson, 2011; Giordano & Lindstrom, 2009; Chotikapanich, Creedy, & Hopkins, 2003; Williams & Cameron, 2009). Specifically:
– There is a causal relationship between family income and health of a child (Marmot, 2004)
– Hallerod & Gustaffson (2011) find that, in Sweden, there is a strong relationship between socio-economic status and morbidity.
– A longitudinal study of Giordano & Lindstrom (2009) in Sweden reveals that individual and household income affect the self-perceived health of an individual.
– People of low income in Australia tend to have lower self-assessed health (Chotikapanich, Creedy, & Hopkins, 2003). Lower self-assessed health is more prevalent in males than in females.
– In Indonesia, low income negatively affects the health of children from 0 to 14 years old (Williams & Cameron, 2009). Chronic illness is a dominant health issue in developing countries as compared to acute illnesses in developed countries, thus playing a central role in the income-health relationship.
Health and food consumption
Research on health sciences suggest that food consumption directly affects health (Lissner, et. al., 2012; Leon, et.al, 2010; Vijan, 2010; Freedman, et.al., 1999).
– High fat diet, high sugar diet, and excessive alcohol consumption are one of the major causes of high body mass that can lead to obesity (Lissner, et. al., 2012; Leon, et.al, 2010).
– Obesity increases the chances of type 2 diabetes and circulatory diseases (Vijan, 2010; Freedman, et.al., 1999).
A review of literature tells us that what we eat impacts our health and that the socio-economic status of a person also correlates with their health. By carrying out an analysis of the language on trash, we can get insights into some of the consumption habits of a community. This can, in turn, help us in predicting the kind of health problems that can be found in a community.
Part III. How to do it? (Methodology)
What to collect
As our focus is on transgressive linguistic landscape, collect trash that has any language on it. You may also collect other trash (with no language), but this will not be coded in this project.
Choose an area(s)
You need to choose a local area(s) where you want to collect data. You can also collect data from a single site or from multiple sites. If you are collecting data from multiple sites, we suggest that you choose areas with different socio-economic status. This is to have a better comparison of the data in relation to health and socio-economic status. You may refer to trusted statistics or organisations to identify the socio-economic status of your chosen area(s).
Plan trash collection
It is very important to plan the trash collection carefully before you collect your data. Ill-planned or badly executed data collection will not give you reliable results. Here are some things that you can do to make your data collection more reliable (and comparable):
Prepare a map of the area(s): If you are collecting data in multiple areas, you should decide a uniform measurement where you will collect the data. It can be a square (e.g. 100m x 100m; 150m x 150m) or circle (e.g. 100m radius; 150m radius). This is to ensure that the method we are using can be used in other parts of the world too. One way of doing this is through using online maps. There are several applications in google play (for android) or apple app store (for iOS) that you can download to create a radius. You can, for example, create a radius of 150 metres in the app as shown below.
Plan you date(s) and time: You have to decide whether you will collect data for only one day or more. And then, plan the time that works in your area and follow it religiously. For example, some areas have frequent cleaners. You have to pick a time before the cleaner arrives.
Plan your navigation: You should plan which street or part of the area you will go to first and where you will end. If possible, plan it in a way that you do not have to go back to the same street again.
Assign tasks: If working in a group, you can assign tasks that each of your members will carry out during data collection. This can make the collection easier and efficient. For example, you can plan: Who will take pictures? Who will pick up the trash? Who will hold the bag? Who will track your GPS in the map?
This also reduce doubling tasks that greatly affect the next steps of your project. For example, if a lot of members take pictures in their phone, whose pictures will be used for coding? By just looking at the phone image, it is hard to identify whether the trash is a different one because they all look similar!
Be healthy: Health of researchers is one of the most important things in this project. How can we teach our communities health if we are not healthy ourselves? Use sanitary materials in collecting trash. Some sanitary materials are bags, gloves, face mask, tongs, boots, etc.
Be safe: It is very important to be safe – always. Your well-being is more important than a research project. Do not go to places which are hazardous to health (e.g. dump sites) and/or safety (e.g. restricted areas, high crime areas, unlighted or dark streets).
Conduct trash collection in the area(s)
Here are things that you need to consider during trash collection:
– Wear comfortable clothes. Wear gloves, face mask, and boots. Use thongs is picking up the trash.
– Always check your GPS on your phone. In order to be reliable in your findings, you should not use trash that is out of your collection zone for analysis.
– Only use trash that has language on it for your analysis.
– After your trash collection, do not forget to wash your hands and take a shower 🙂
The main reason why we are collecting trash is to collect evidence. Do not forget to take pictures of trash. It is better to take multiple pictures of trash to serve different purposes.
To show evidence of the location of trash, take a group picture of them on site, untouched:
To show evidence of language on trash, take a picture of each trash in which text is visible:
Coding
After collecting the evidence, the next step is to code the trash. Coding is a way of analysing data that can help you in your interpretation. It is also another form of evidence. You can use the codes in any interpretation you want that serves the purpose of your project. Here are the steps on how to code the data:
Based on all the trash collected, create a classification tree based on type of product. This will be your framework in classifying the types of trash. Start with the broad categories. Under broad categories, put sub-categories. Assign letters and numbers to each category. Following is one example of data coding. You should develop the categories for your analysis based on the data (trash) that you collect.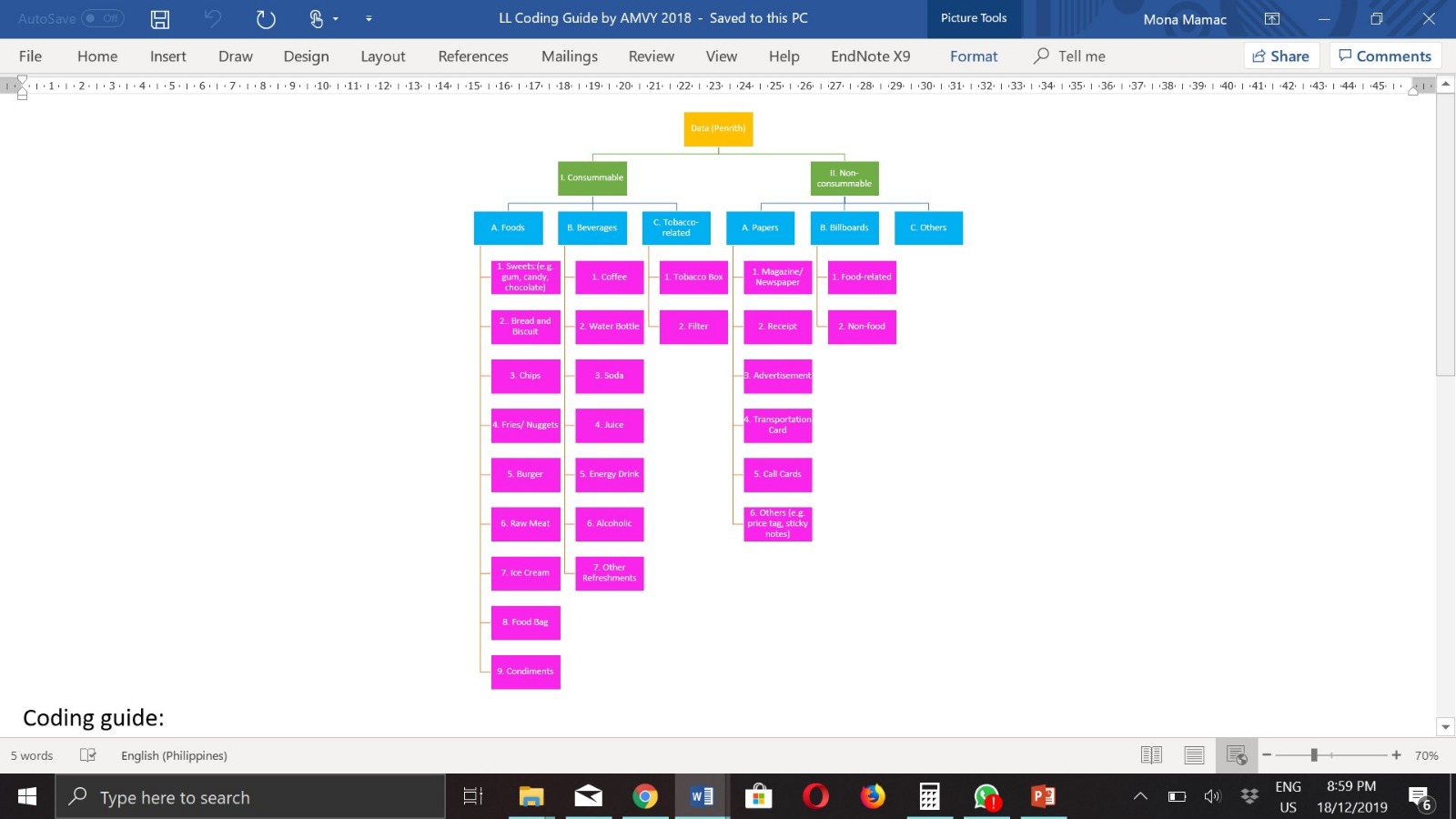 You can refer to the coding system above, but do not copy it exactly the way it is. Instead, use the data that you have to develop your own categories.
Assign a code for each of the trash pictures. Start from general category to sub-categories. Also, indicate the number of trash and picture number in your coding. For example:
Picture no. 37
Above is an image of a gum wrapper. It is the 37th piece of trash gathered in the data collection in an area. It is consumable, food, and sweets. Using the coding system above, the code for this picture is: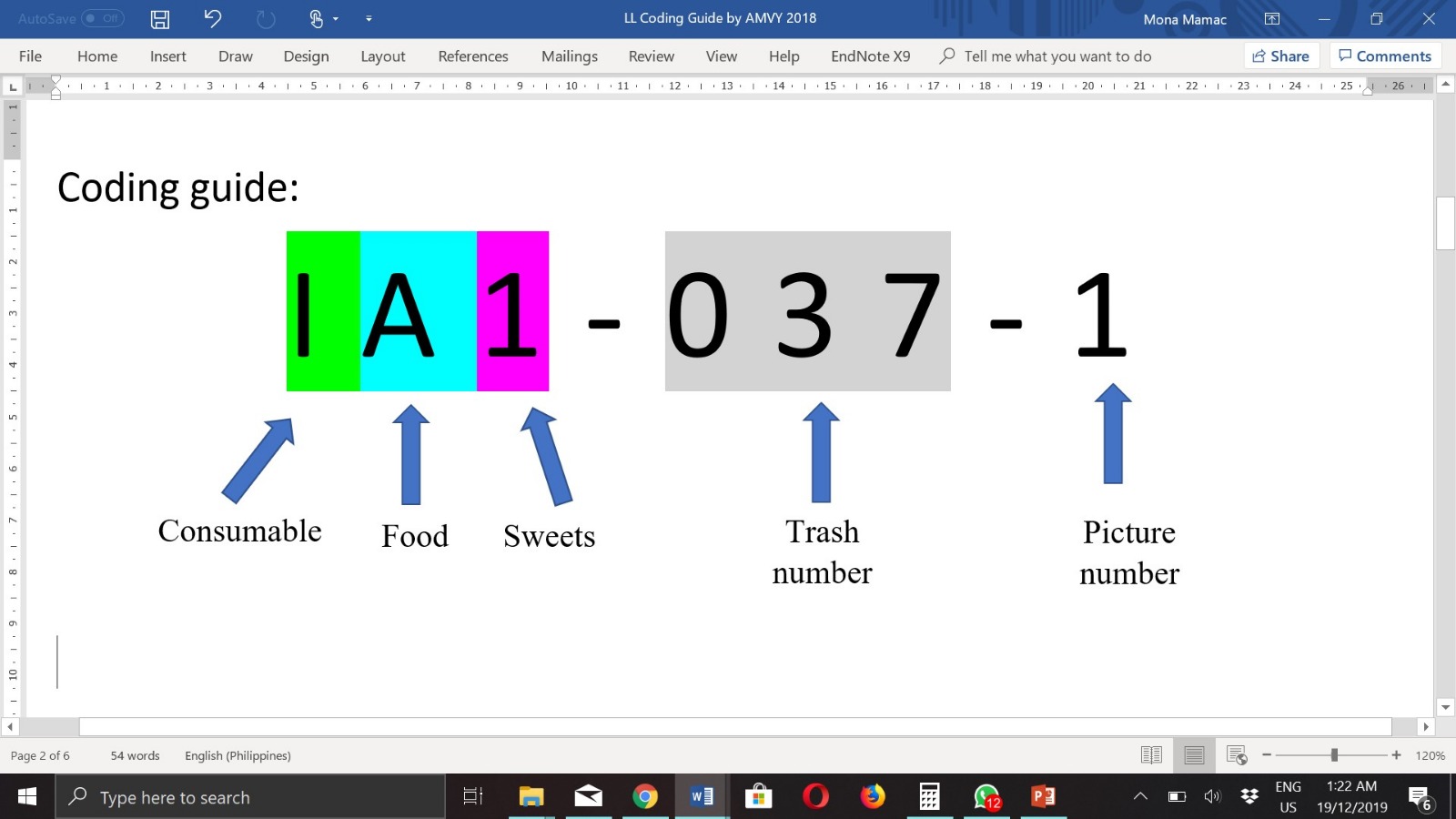 There are some items that have multiple pictures. This is because we want to capture the texts both in front and the back of the trash. An example is the pictures below which is two images of the same trash. In the file, the images are named 41.1 and 41.2. Number '41' refers to the number of trash collected. Number '.1' indicates that it is the first picture of the trash. Number '.2' indicates that it is the second picture of the same trash.
Picture no. 41.1
Picture no. 41.2
If we categorise this trash using the coding system above, it will be consumable, food, fries/nuggets. Therefore, the code for picture 41.1 is: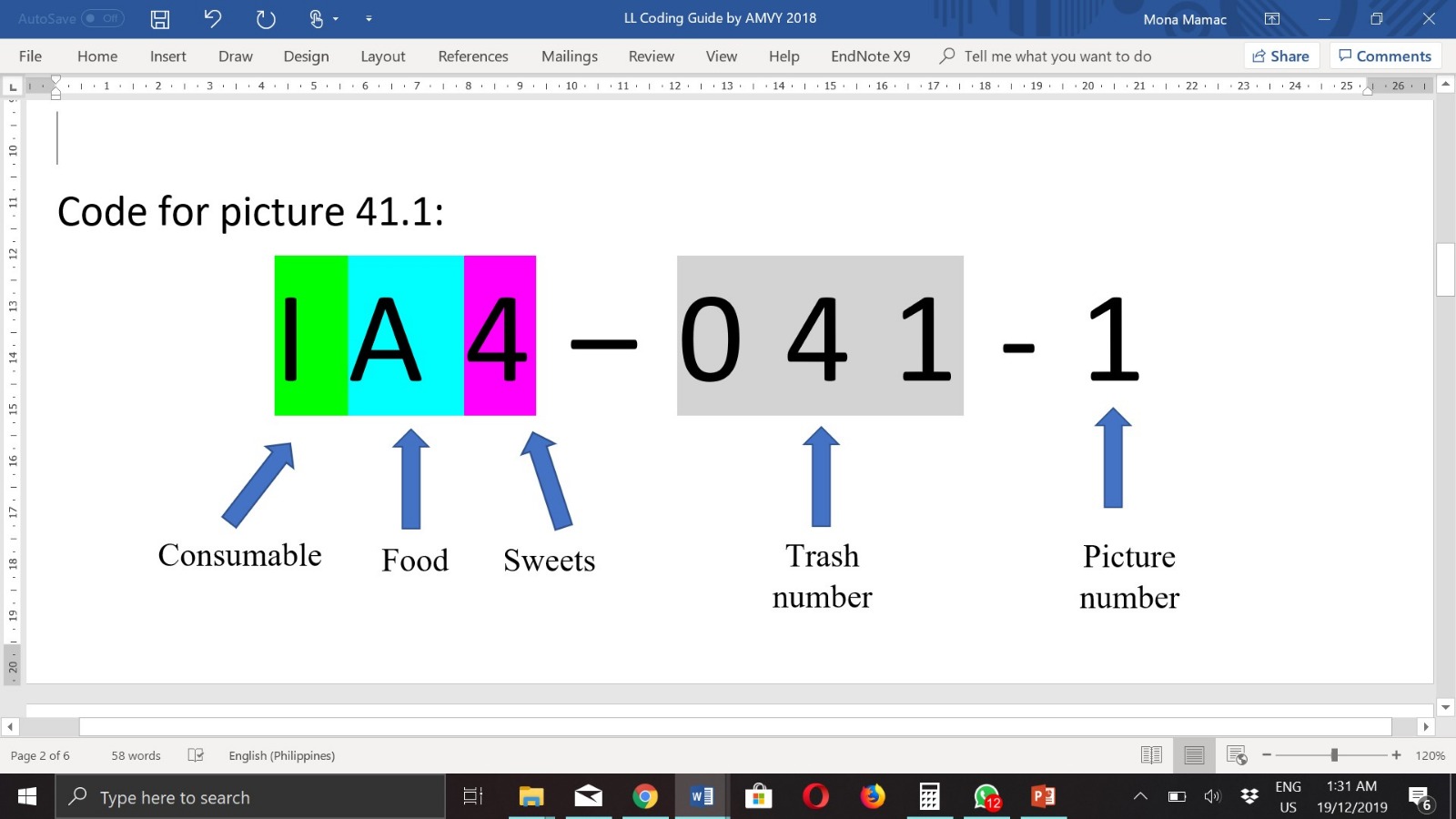 For the second image, you only need to change the last number for the code of picture 41.2 because it is the same trash, just a different image: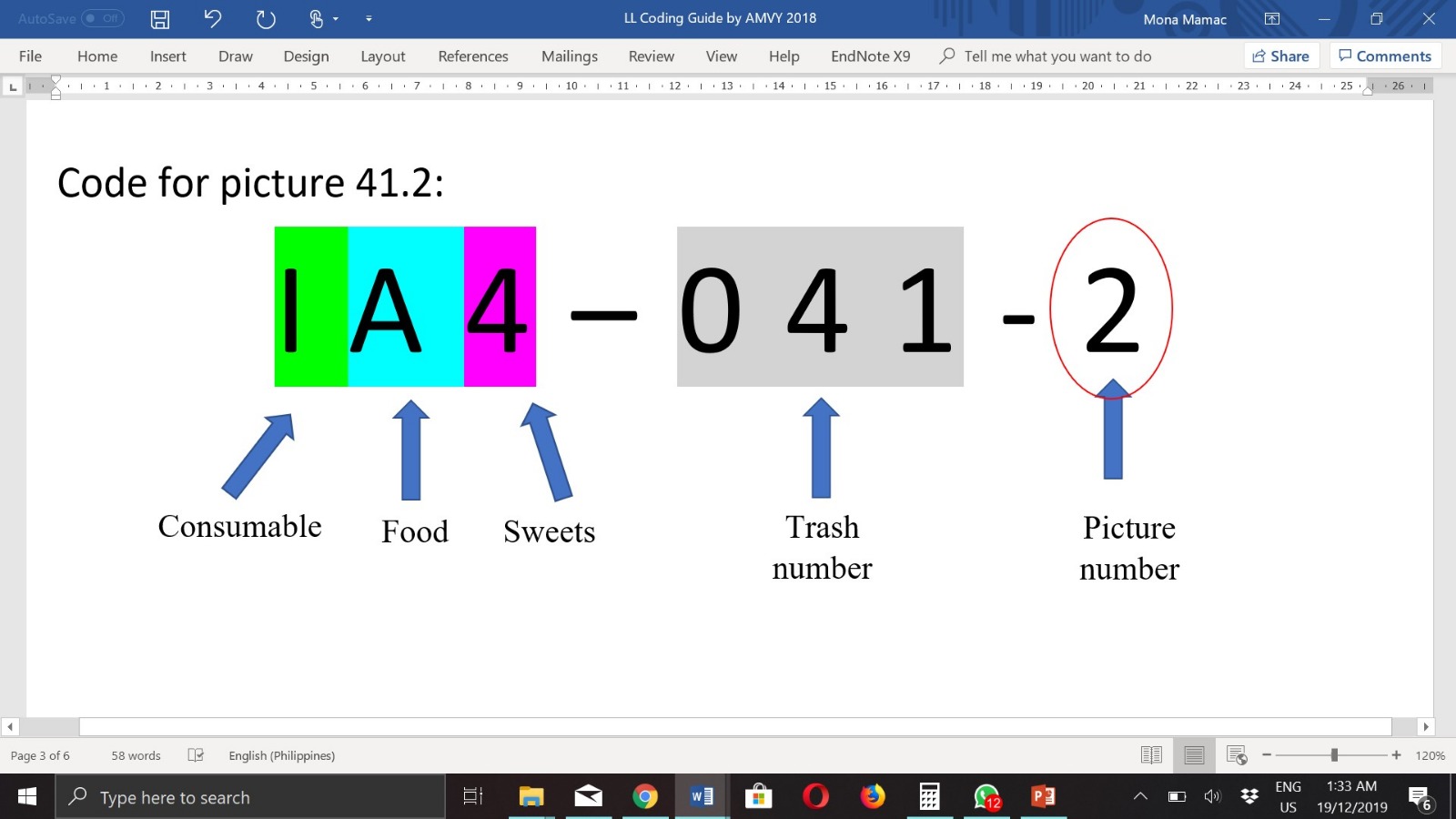 Encode everything in an excel file with additional information such as (you may add to or remove from this list):
Category
Sub-category
Item description
Brand
Language on item (what does the text say?)
Language of item (is it in English, Chinese, Urdu, etc.?)
Nutritional contents (high fat, high sugar, alcoholic, high in cholesterol, etc.)
Condition (e.g. old, new, torn, etc.)
Material (e.g. plastic, cardboard, paper, etc)
Waste classification (e.g. biodegradable, non-biodegradable)
Sample
Upload the coding system, excel file of codes, and all the pictures in a google or another sharable drive. Please share this folder with us; you can also use the folder/link in any actions (see below) that you take based on your work.
Analyse and present
Based on the excel file, identify the most significant findings in your data, e.g. the the most frequent category of trash, the most frequent brand in trash. If you are comparing two areas, analyse and compare the data between the high socio-economic status area and low socio-economic status area. Present them in a way that can be easily understood such as graphs, smart art, images, etc.
Take action
The most important part of the project is taking action on health and environmental issues of the community.  Here are some possible actions that you can take:
Letter to local and international brands – you can identify the top five polluters among all the trash and then search for the companies that manufacture these products. You can write a letter to the corporate social responsibility offices of both local and international branches of the companies.
Letter to the government
Letter to the editor of a newspaper
Talking to people about the health and environmental issues in the community
Designing alternative materials/ resources that are educational
Creating an awareness campaign
others…
Use your analysis and the documents/images on the shared drive to provide evidence, as needed.
Fill out the FLC Trash form
If you want to participate in the FLC publication on the Trash Project, please e-mail Mona Mamac (mona.mamac @ flcgroup.net) and she will send you a form that you can complete and send back.
References
Cameron, L., Williams, J., & Cameron, L. (2009). Is the Relationship Between Socioeconomic Status and Health Stronger for Older Children in Developing Countries? Demography, 46(2), 303–324. https://doi.org/10.1353/dem.0.0054
Chatterjee, S., Khunti, K., & Davies, M. J. (2017). Type 2 diabetes. The Lancet, 389(10085), 2239-2251.
Chotikapanich, D., Creedy, J., & Hopkins, S. (2003). Income and Health Concentration in Australia. Economic Record, 79(246), 297–305. https://doi.org/10.1111/1475-4932.00105
Freedman, D. S., Dietz, W. H., Srinivasan, S. R., & Berenson, G. S. (1999). The relation of overweight to cardiovascular risk factors among children and adolescents: the Bogalusa Heart Study. Pediatrics, 103(6), 1175-1182.
Giordano, G., & Lindstrom, M. (2010). The impact of changes in different aspects of social capital and material conditions on self-rated health over time: A longitudinal cohort study. Social Science & Medicine, 70(5), 700–710. https://doi.org/10.1016/j.socscimed.2009.10.044
Leon, D. A., Shkolnikov, V. M., McKee, M., McKee, N., & Andreev, E. (2010). Alcohol increases circulatory disease mortality in Russia: acute and chronic effects or misattribution of cause?. International journal of epidemiology, 39(5), 1279-1290.
Halleröd, B., & Gustafsson, J. (2011). A longitudinal analysis of the relationship between changes in socio-economic status and changes in health. Social Science & Medicine, 72(1), 116–123. https://doi.org/10.1016/j.socscimed.2010.09.036
Lissner, L., Lanfer, A., Gwozdz, W., Olafsdottir, S., Eiben, G., Moreno, L. A., Reisch, L. (2012). Television habits in relation to overweight, diet and taste preferences in european children: The IDEFICS study. European Journal of Epidemiology, 27(9), 705-715.
Marmot, M. (2005). Social determinants of health inequalities. The Lancet, 365(9464), 1099–1104. https://doi.org/10.1016/S0140-6736(05)71146-6
Vijan, S. (2010). Type 2 diabetes. Annals of internal medicine, 152(5), ITC3-1.